In the 1990's the members of the APO committed to the development of an interjurisdictional beltline arterial corridor to help improve mobility and connectivity regionwide.
Between 2000 and 2008, several studies were undertaken to plan for the beltline corridor, but when the financial recession of 2008 hit, all planning for the corridor stopped as available transportation funding became very limited, and the funds that were available were directed primarily into system maintenance and preservation.
In October of 2019, as the APO was completing its Metropolitan Transportation Plan, the Policy Board re-affirmed its commitment to completing the beltline corridor. Since 2008, the City of St. Cloud has been widening 33rd Street South into a 4-lane divided arterial as a segment of the beltline corridor, and planning work is now recommencing for other beltline segments.
The Southwest segment of the beltline corridor is expected to connect the existing 33rd Street South interchange at TH-15 with CSAH 75 somewhere between the Cities of Waite Park and St. Joseph.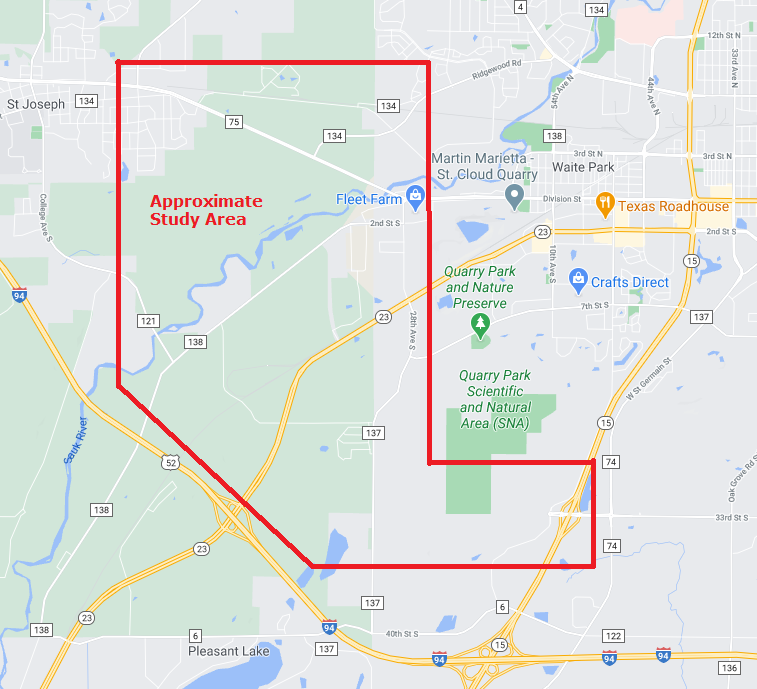 The APO seeks a well-qualified consultant to complete this important corridor study.
The purpose of the study is to evaluate:
Potential impacts the corridor may have on regional and local traffic flow, mobility, travel times, safety, etc.
Potential corridor alignment(s)
Potential corridor cross-section(s)
Potential intersection locations, types, and controls
Potential active transportation facilities
Recommendations for access-control along the corridor
Recommendations for corridor protection and phasing of corridor construction
This study will not include any formal environmental impact evaluations or decision-making, though it could include planning-environmental linkages* as outlined by the Federal Highway Administration.
The study process will be guided by an interjurisdictional Project Management Team (PMT) comprised of representatives from Stearns County, City of St. Joseph, City of Waite Park, MnDOT, and the APO.
Previous studies from the 2000-2008 period can be download from  https://stcloudapo.org/documents-resources/urban-belt-line-corridor-plans/. However, given the age of these plans and the changes that have occurred since their completion, interested parties are encouraged to review them only as background material. This current study will re-start the planning process and is not necessarily meant to build upon or continue these previous studies.
* https://www.environment.fhwa.dot.gov/env_initiatives/PEL.aspx
What is Happening Now?
The APO has released a Request for Proposals (RFP) to solicit proposals from qualified consultants.
The RFP can be viewed and/or downloaded by clicking HERE.
Questions and Answers Regarding the Request for Proposals
January 1, 2020
Q: On page 6 of the RFP it indicates: "No other project personnel are allowed to discuss the RFP before the proposal submission deadline. Contact regarding this RFP with any personnel not listed above could result in disqualification." Does this mean that we are not allowed to meet with representatives from the county or the two communities or does it relate to APO staff other than yourself?
A: In the interest of holding an open and fair procurement process, we do not want any interested party/prospective respondent to receive "inside information" or information that is not available to all other prospective respondents. It wouldn't be fair. To that end, we do ask that you contact only me. I will document all questions, and will publicly publish all responses.
Then What Happens?
APO staff along with staff from Stearns County, Waite Park, Saint Joseph, and MnDOT will review and rank all proposals received. The APO will then negotiate contract terms with the top-ranked respondent.
How Can I Get Involved?
There will be a public input effort as part of this planning process. The exact timing of that effort and what will occur during the public input phase(s) is not known at this time. Consultants are asked to submit their public input plan with their proposal. Once we have a consultant under contract and the scope-of-work is known, we will provide more information here about when and how the general public can get involved with this plan.