Mayhew Lake Road from MN 23 to CSAH 29/35th Street NE is at the heart of an area in Sauk Rapids that is primed for growth. This north-south route, on the eastern side of the city is located just east of TH 10 and north of TH 23. The current ADT on this 2-lane, minor arterial with a rural cross-section is 5,900. The posted speed limit is generally 50-55 miles per hour, though the area near the Sauk Rapids-Rice High School is posted at 40 mph near the start and end of the school day and traffic also slows at the roundabout. Even with reduced speed limits at school start and end times, there are safety issues on Mayhew Lake Road, including some associated with young drivers coming to and from the high school. This includes one multi-vehicle crash that occurred near the high school in February 2021 at the end of the school day, as well as numerous, undocumented, near-miss crashes in the vicinity of the high school.
Until recently the recent past, Mayhew Lake Road functioned as a rural roadway. Residential development and the Sauk Rapids-Rice High School are placing this route at cross-purposes
between functioning as a rural and urban route. Traffic from development, including more residences, industrial development, additional school facilities, and the planned Mayhew Creek
Park will continue to increase traffic volumes in the area.
Corridor Issues Map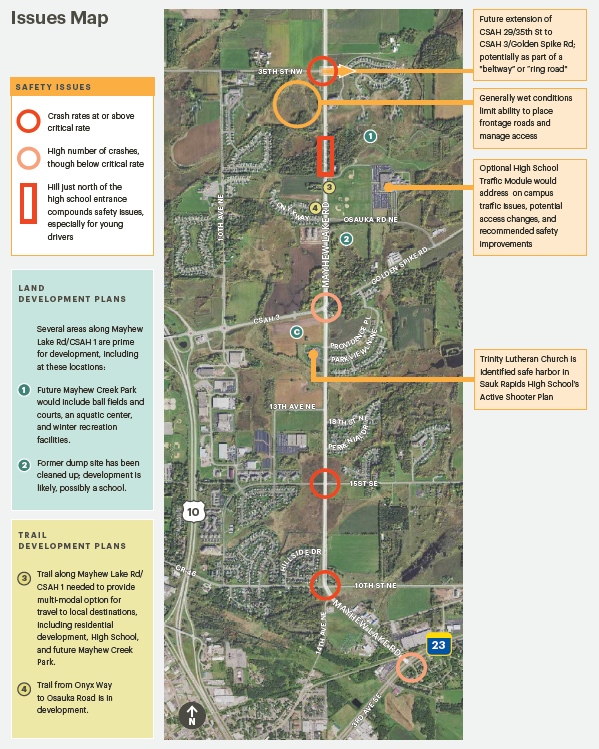 More Information
You can find more information about the study on the consultant's page: https://mayhewlakeroad-wsbeng.hub.arcgis.com/
Tentative Study Schedule (subject to change)